by Lee Adams
It's official: Shadowgun Legends is Google's Most Beautiful Game 2019. So tonight we're all gonna get totally shitfaced!
Everyone here at MFG is pumped — we're partying tonight to celebrate our ninth anniversary, and winning a Google Award last week will make things even sweeter! If you're free tonight you can join us — just hop on a train or a plane and head to Perpetuum Music Club in Brno. Just say Lee invited you. The beer's free and many shapes will be thrown on the dance floor. Scott will be dressed as a Pokemon trainer and it'll get pretty messy — by 3 am Tomas will have stripped down to his boxers and taken over the DJ stand. Good job we've got tomorrow morning off…
In case you didn't know, Legends beat a group of really gorgeous looking titles to the Most Beautiful Game Award. I just want to give a shout out to the other competitors:
Asphalt 9: Legends — Gameloft's super slick racer looks sumptuous, putting the player behind the wheel of ultra-detailed cars in a variety of real-world locations from neon-lit Shanghai to the wilds of the Himalayas.
Badland Brawl — Frogmind's cartoony physics-based brawler has bags of character and the art design is really neat, absolutely bursting with personality.
Chuchel — from fellow Czech studio Amanita, the bizarre retro design of this comedy adventure makes you feel like you're playing a lo-fi kid's TV show from the '80s. In a very good way.
Gorogoa — Annapurna Interactive's chilled out puzzle game looks wonderful, with the gameplay unfolding wordlessly through thousands of beautiful hand-drawn illustrations.
The diversity of the artwork on display really showcases the quality of mobile gaming these days, and to win the award over such strong competition makes us extremely proud and excited for the future.
It's a real achievement for the guys at MFG who have made it happen, people like Radek Marek, who has been in the industry for many years and worked on games like Mafia. Now he's at MFG making sure our games look as stunning as possible…and obviously succeeding!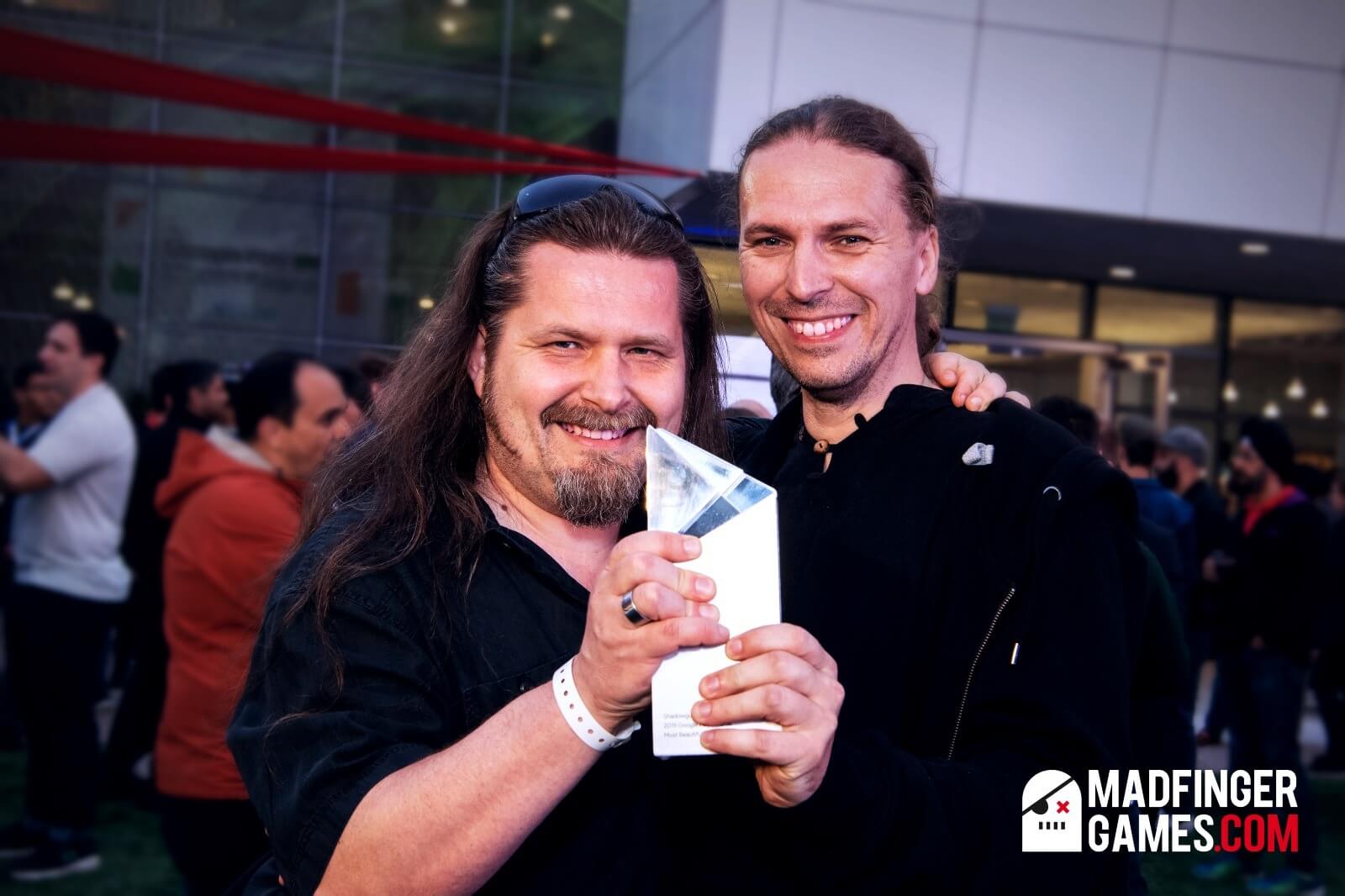 Zadr and Mira combining their strength to hold up the Award for the pic.
We all would have loved to be at the awards ceremony in San Francisco, but it was the proud duty of Zadr (our lead programmer) and Mira (our CTO) to head up to the stage and receive the prize. I don't know if you've ever seen a Google Play Award — it's about seven inches tall and weighs about half a ton, so collecting the award was a two-man job. It was a tough gig but someone had to do it, and thankfully the guys had access to a free bar to slake their thirst before and after the Herculean task…
To celebrate nine years in the biz and winning a Google Play Award we'll be giving away some free stuff in all the MFG titles. It's our way of saying thanks because without the commitment and feedback from our community, we wouldn't be where we are today. Cheers everyone — this award is for you guys!
BACK TO ALL NEWS